Online conference "Law 2/2023, a paradigm shift in the fight against corruption. Impact on the Valencian Community"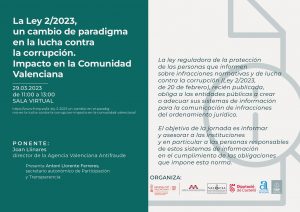 Organized by:
*General Directorate of Transparency, Citizen Attention and Good Governance, of the Ministry of Participation, Transparency, Cooperation and Democratic Quality of the GVA,
*Valencian Federation of Municipalities and Provinces (FVMP)
*Provincial Council of Castellón
*Provincial Council of Valencia
*Provincial Council of Alicante
Together with the Valencian Antifraud Agency.
Recipients: Personnel from the local entities of the Valencian Community (technicians and officials of the local administration with national authorization), personnel at the service of the GVA and the provincial councils (Transparency Units, Inspection, Anti-Fraud Committees and others interested in the subject.
Speakers:
*Joan Llinares, Director of the Valencian Anti-Fraud Agency
*Javier Alama, Head of the Information Systems Service, Analysis and Investigation Department of the Valencian Anti-Fraud Agency.
Information and registration: https://www.fvmp.es/la-ley-2-2023-un-cambio-en-el-paradigma-en-la-lucha-contra-la-corrupcion-impacto-en-la-comunidad-valenciana/