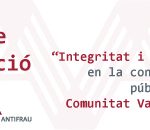 One more year, "Integrity and Prevention in public contracting in the Valencian Community" is the course organized by the Valencian Anti-Fraud Agency in collaboration with the Valencian Institute of Public Administration (IVAP), and there are already four editions, within the framework of the Plan of Training for Public Employees at the Service of the Generalitat of 2021.
The training activity, through the Introduction on the situation of corruption and the fight against fraud in the national and international context and the analysis of the situation in the Valencian Community and the regional regulations, aims to strengthen the performance of the institutions Valencian public authorities to avoid moral deterioration and economic impoverishment that results in a detriment to the Valencian citizenship.
The basic areas of activity are prevention and training, analysis and investigation, within the legal sphere coordination, the sanctioning procedure and the protection of the complainant, as well as communication and participation.
The training action lasts 20 hours, (Date to be determined) and with an "online" format through the IVAP virtual campus.
The course is aimed at public servants of the Generalitat Valenciana managed by the General Directorate of Public Function, from groups A1, A2, C1, C2 and * APF, and more specifically, at people with functions in the field of contracting public.
You can enroll in the course, "Integrity and Prevention in public procurement in the Valencian Community" at http://ivap.gva.es/es/inscripcio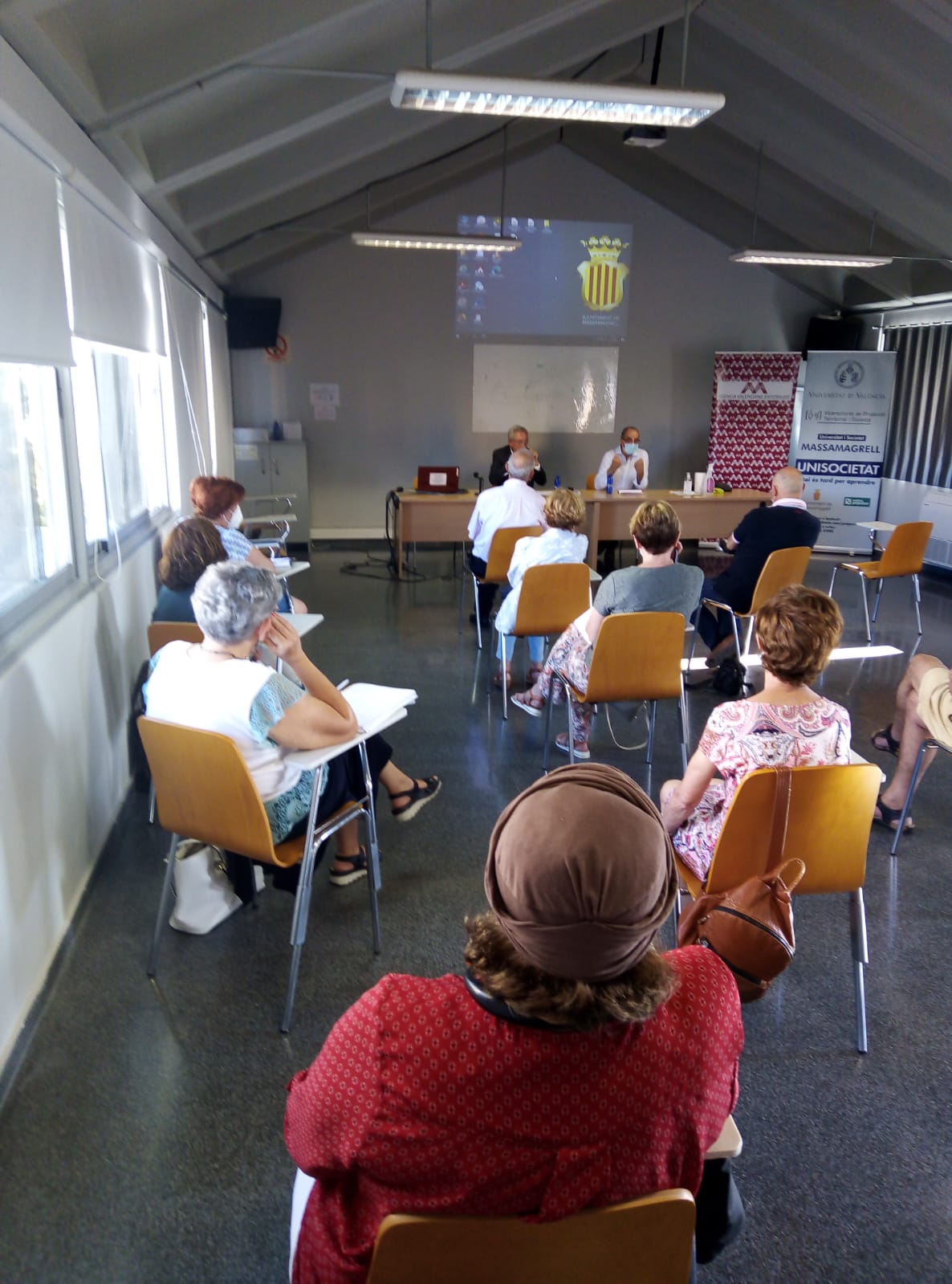 With the Unisocietat Massamagrell conference, on June 22, the pre-summer programming of the cycle of conferences that take place in the Valencian territory was closed, as a result of the Unisocietat program within the framework of the existing collaboration agreement between the Valencian Antifraud Agency and the Vice-Rector's Office for Territorial Projection and Society of the University of Valencia.
Read more
The National Markets and Competition Commission together with the Blueprint for Free Speech held on Thursday February 13 at 10 am the event entitled "The protection of whistleblowers, whistleblowers or whistleblowers does not admit delay." The transposition of the European Directive for the protection of whistleblowers will focus this act, which …
Read more

The Valencian Antifraud Agency organizes a Conference on the recently published European Directive on December 9; the day the United Nations celebrates the International Day Against Corruption under the slogan "United against corruption for development, peace and security". The Conference, in the afternoon session, will take place in …
Read more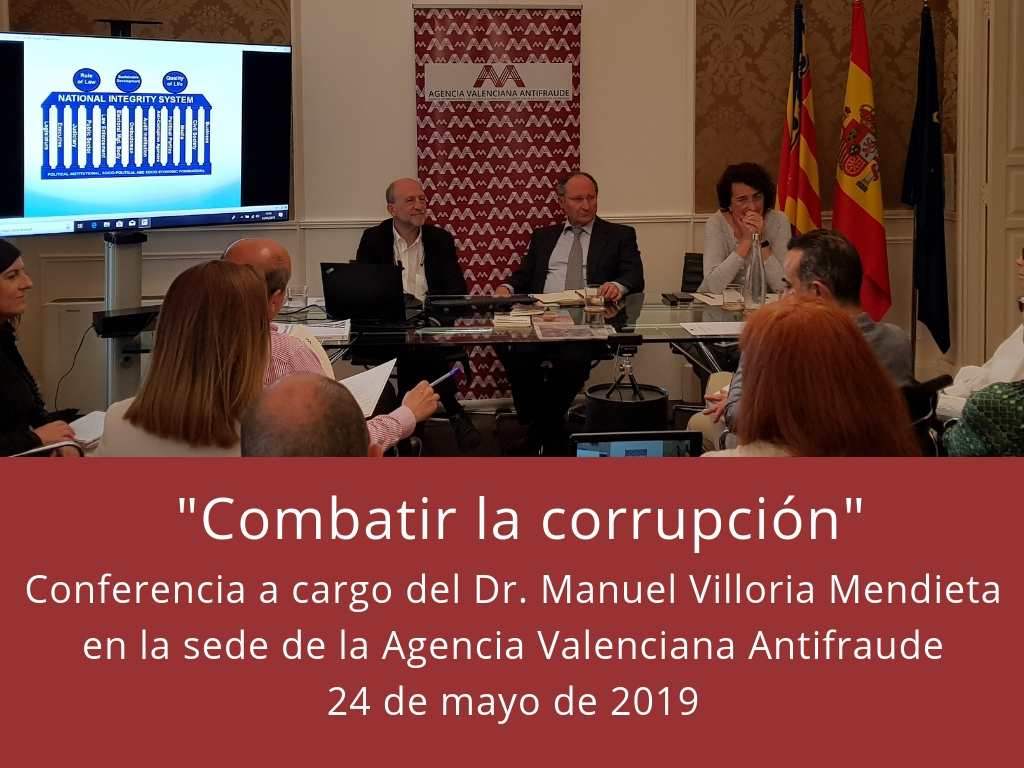 On May 24, at the headquarters of the Valencian Anfifrau Agency, Professor Dr. Manuel Villoria, Professor of Political Science and Administration of the Rey Juan Carlos University of Madrid, delivered a conference entitled "Combat Corruption" addressed to all officials and Agency officials. The conference that dealt with such interesting topics as …
Read more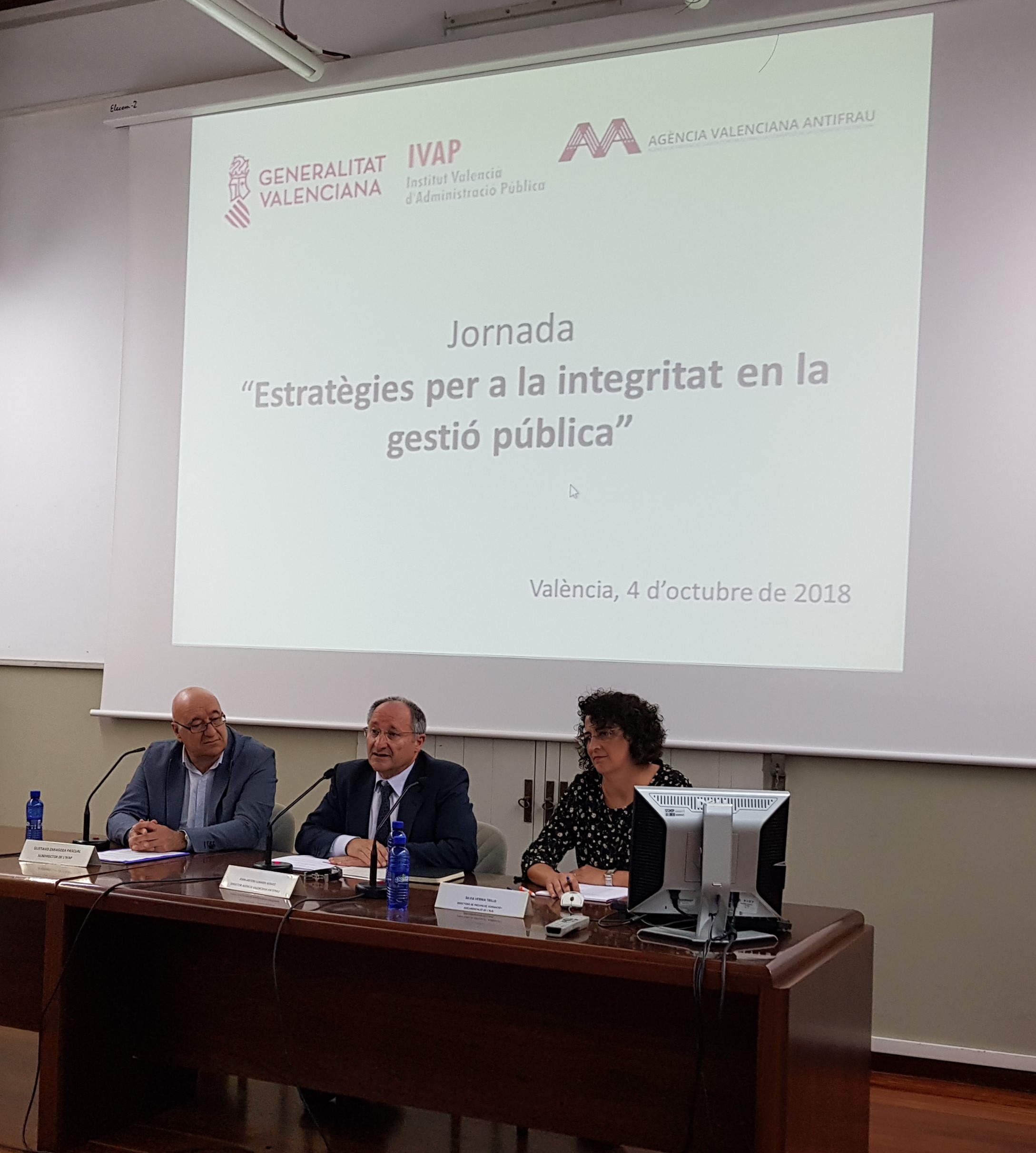 On October 4, 2018, the Valencian Anti-Fraud Agency, in collaboration with the IVAP, carried out its first activity open to all public employees, which was attended by an immense public from different administrations. The Conference was dedicated to "Strategies for integrity in public management." After the inauguration of the Conference …
Read more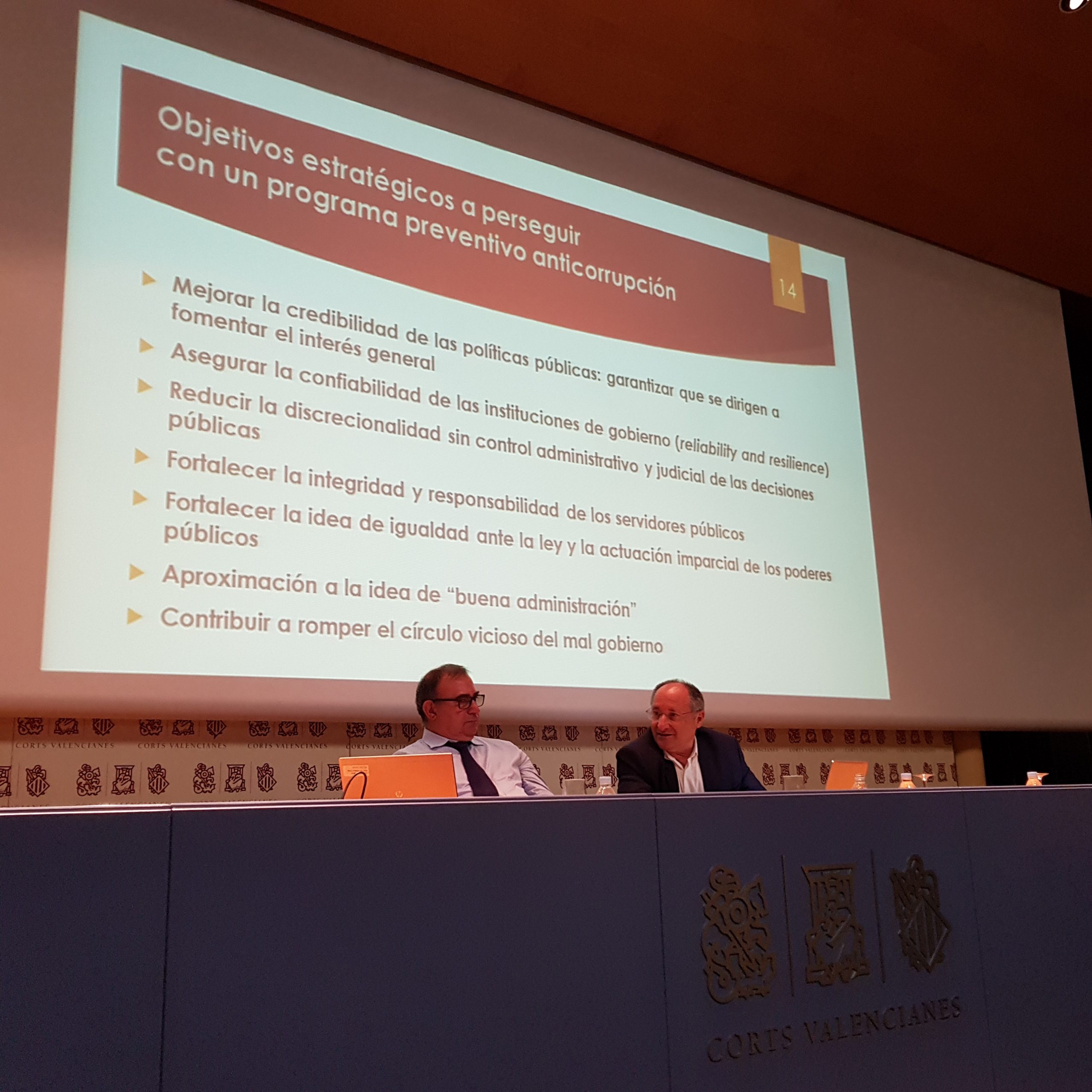 On the occasion of the start of the 208/2019 academic year, the Valencian Anti-Fraud Agency held a training session on "The Anti-Fraud Agency and its consolidation" on September 24. The introduction was given by the director of the Agency, Mr. Joan Llinares. The conference was held by Mr. Francisco Cardona, an international expert in design …
Read more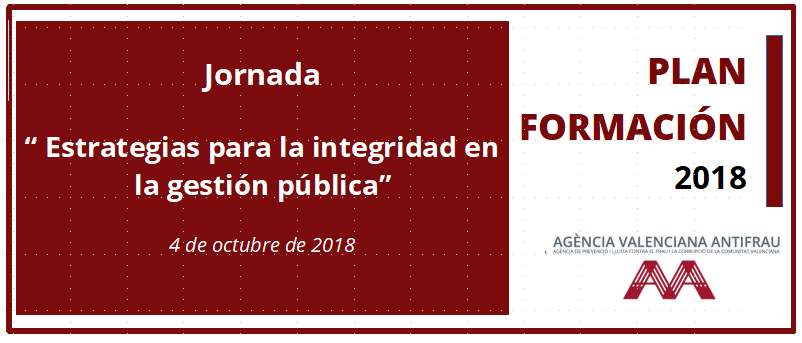 Today the Valencian Antifrau Agency has started the first training activity for public servants, by holding a Conference on "Strategies for integrity in public management", within the second call of the 2018 Training Plan of the Valencian Institute of Administration Public The activities have been carried out in …
Read more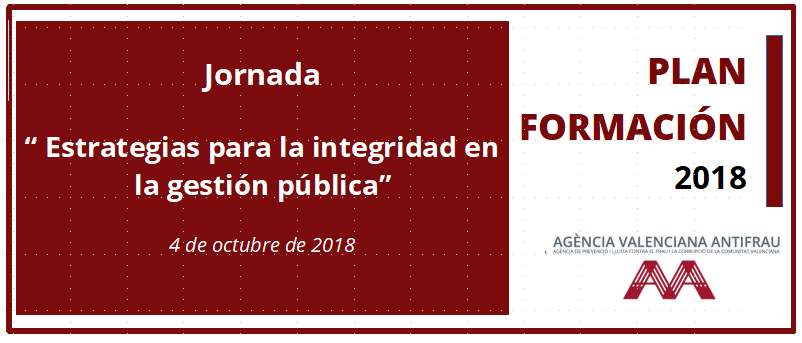 The Valencian Anti-Fraud Agency together with the Valencian Institute of Public Administration (IVAP) organize the Conference "Strategies for integrity in public management". Valencia October 4, 2018, from 9 a.m. to 2 p.m. The event will take place in the main hall of the IVAP headquarters, Palau de la Pineda, Plaza de Carmen, …
Read more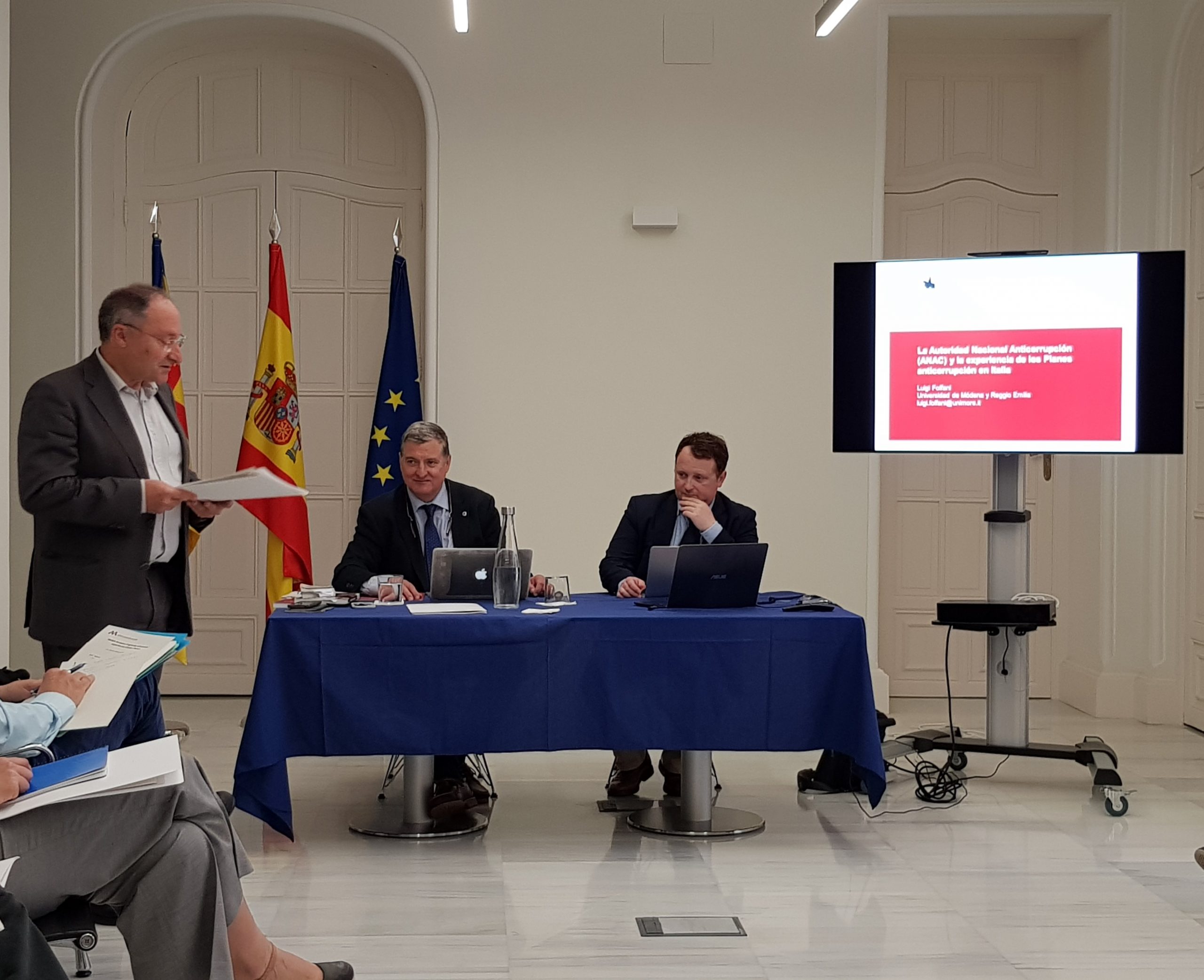 On May 30, at the Valencian Anti-Fraud Agency Headquarters, organized by Mrs. Silvia Vernia, Director of Prevention, training and documentation, the first seminar on "European models of anti-corruption agencies: experiences from Italy and Portugal" took place, with experts from Italy and Portugal. After the presentation made by the Director of the …
Read more