#TrainingAVAF
The Valencian Antifraud Agency has held the first #DocuforumAVAF in Secondary Schools 2023 in the city of Valencia, at IES Serpis.
The learning experience offered by the Agency consists of several phases and aims to make students reflect on strategies to combat fraud and corruption in the public administration, paying special attention to the need to protect people who report corruption.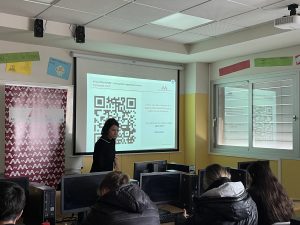 The 1st year of high school students of the IES Serpis in Valencia watched the documentary "Corruption: harmful organism" on Pandora Box TV, in a first session with the teacher responsible for the activity and heard the testimonies of informants of corruption in the public sector.
Subsequently, on Thursday, February 23, in a second work session, carried out in the classroom by the AVAF training technician, Pilar Moreno, the 1st year Baccalaureate students were able to raise their doubts and questions regarding how to prevent and persecutes corruption in the Valencian Community.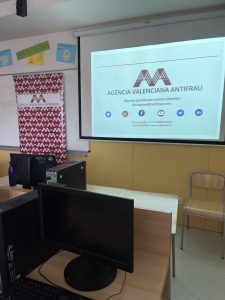 The Valencian Antifraud Agency, through the training activity of #DocuforumAVAF, has the opportunity to show in the classrooms of schools, institutes and universities throughout the Valencian Community, the response that Les Corts gave, through the creation of the AVAF, to the mandate of the UN through the United Nations Convention against corruption. In turn, it allows students to share the challenges of the present and future in matters such as public integrity, prevention and protection of informants of corruption.
If you are a university or high school teacher in the Valencian Community and you are interested in having the training activity "Docuforum: Corruption, harmful organism" carried out in your classroom, do not hesitate to contact the training service of the Valencian Anti-Fraud Agency at training@antifraucv.es