#TrainingAVAF
The AVAF has given a conference/workshop on managing the risk of conflict of interest at the request of the General Directorate of Government Action of the Generalitat Valenciana for the people who hold the direction of Programs for the Management of European Funds in the eleven Consellerias , as well as staff from LABORA, IVACE and Turismo Comunitat Valenciana.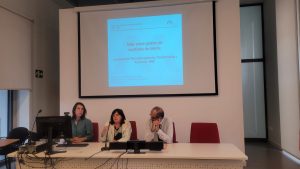 The Agency's Training Service, made up of Anselm Bodoque, head of the Service, Pilar Moreno and Marita Oliver, area technicians, energized the workshop in which conflict of interest was studied in depth, understood as the situation in which The impartial and objective exercise of the functions of the public employee has been compromised for family, affective, political or national affinity reasons, economic interest or for any other direct or indirect reason of personal interest.
Throughout the four hours of training, the risk of conflict of interest as a prelude to corruption and the existing tools to address it have been studied in depth.
The Valencian Anti-Fraud Agency has several publications on conflicts of interest where the following stand out:
The training has had the very active participation and interest of more than 35 management managers of the Recovery and Resilience Mechanism of the Generalitat Valenciana. Julia Moreno (GVA Presidency) and Olga García-Pozuelo (Department of Agriculture) will be the facilitators and promoters of the day by the Generalitat Valenciana.