#TrainingAVAF
The Valencian Anti-Fraud Agency (AVAF) co-organized together with the Jaume I University of Castelló (UJI) the conference "Law 2/2023, a paradigm shift in the fight against corruption. Impact on the Valencian Community." last Wednesday, May 10, with a follow-up of 154 people, in person and online.
The Hall of Degrees of the Faculty of Legal and Economic Sciences of the Jaume I University of Castelló hosted the conference aimed at university students, as well as public employees of local entities, associations, provincial councils and the Generalitat Valenciana.
Cristina Pauner, General Secretary of the UJI, and Teresa Clemente, Deputy Director and Legal Affairs of the AVAF, were in charge of the institutional welcome.
Jorge Viguri, professor of Constitutional Law at the Jaume I University of Castellón, began the day with his presentation "The Law 2/2023 under examination. Positive aspects and future challenges".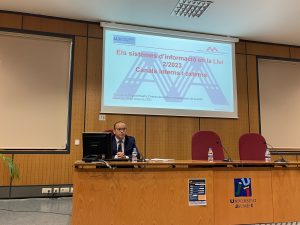 Gustavo Segura, director of Analysis and Investigation of the Valencian Antifraud Agency, exposed the information systems in Law 2/2023. Throughout his presentation, he detailed the obligation to implement these before June 13, in the case of local entities with more than 10,000 inhabitants and recalled that the deadline, in the case of those with less population, is the December 1, 2023.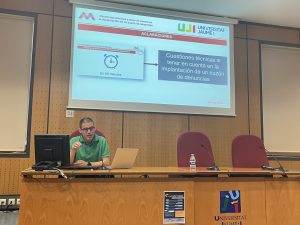 Javier Alamà, head of the AVAF's information systems service, focused on technical issues to implement a reporting channels. Among the characteristics that they must have, bidirectionality stands out, as well as the possibility of presenting anonymous reports.
The round table of the day will count with the presence of Vicente Miravet, secretary – controller of the town hall of Genovés (Valencia) and secretary of COSITAL València, Marina Lázaro, secretary – controller of the local administration and negotiating department Municipal Administration of the Castelló City Council and Jaime Clemente, Professor of Constitutional Law of the UJI.
The future challenges of the law for the protection of whistleblowers against regulatory infringements were exposed by the roundtable participants.
Vicente Miravet contributed the vision of small and medium-sized local entities (PYMEL) and the problems derived from the lack of economic and personal resources, together with the difficulties of the obligation of confidentiality in PYMEL.
For her part, Marina Lázaro highlight the need for coordination on this issue in town halls with the largest population and the imperative of communication and training in the area of corruption whistleblowers.
The attendees learned in detail about the novelties provided by Law 2/2023 and showed their interest in the question-and-answer session about the powers of the person responsible for the system and the possibility of signing collaboration agreements with the Valencian Anti-Fraud Agency.
If you wish to have specialized training in integrity and corruption prevention in your public entity, do not hesitate to write to training@antifraucv.es
⇒ Chronicle of the day from the Jaume I University of Castelló.
https://www.uji.es/centres/fcje/base/arxiu/noticies/2023/llei-2-2023-resum/#
⇒ You missed out? Access now the training video in the following link