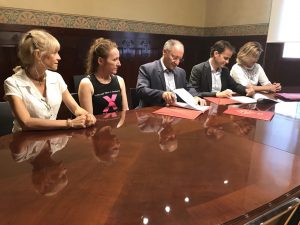 On September 21, the signing of a new framework collaboration agreement was held in Barcelona on this occasion, between the Valencian Anti-Fraud Agency and the Office of Good Practices of the Barcelona City Council.
This agreement continues with those already signed with the Anti-Fraud Agencies of the autonomous communities of Catalonia and the Balearic Islands. With the same objective, to better coordinate the existing Agencies in Spain.
Its purpose is to establish a permanent channel of communication and collaboration to improve the efficiency in the fulfillment of objectives of common interest and to be able to develop through protocols and specific agreements that have as their objective the prevention of corruption, the promotion of institutional integrity and transparency.