#TrainingAVAF
Sueca. – April 20, 2023.
The Valencian Anti-Fraud Agency once again visits the capital of the Ribera Baja, Sueca, and the IES Joan Fuster, thanks to the #DocuforumAVAF activity.
On this occasion, the learning experience has been carried out with the students of the optional subject "Legal and Democratic Culture" in the first year of high school, with the collaboration of Professor Valentina Inglada.
The #DocuforumAVAF activity consists of two parts, in the first one, the students watch in the classroom, together with the teacher, the documentary "Corruption: harmful organism" on Pandora Box TV. In this way, they approach the testimonies of informants of corruption in the public sector and the reprisals they suffered for this reason.

On Thursday, April 20, Pilar Moreno, a training technician, and Jesús Chinchilla, head of the research team, personnel at the service of the AVAF, visited the IES Joan Fuster to share with the students of the 1st year of high school, the objectives and functions of the AVAF and resolve the doubts and questions of those present.

Pilar Moreno explained to the students the Valencian institutional system for promoting integrity and fighting corruption and the Valencian Anti-Fraud Agency, created by "Les Corts" in response to the UN mandate through the United Nations Convention against Corruption of 2003, ratified by Spain in 2006.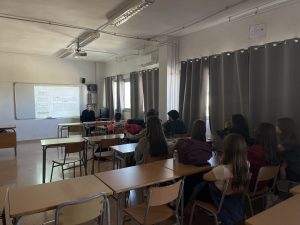 For his part, Jesús Chinchilla shared the tool of the AVAF reporting channel, through which it is possible to present information anonymously.
The difficulties in reporting a case of corruption and how to stop it have been some of the questions asked by the students participating in the training activity.
The Valencian Antifraud Agency through #DocuforumAVAF has the opportunity to show in the classrooms of schools, institutes and universities throughout the Valencian Community the work of promoting integrity and public ethics, as well as the protection of informants of corruption of the AVAF.

If you are a university, high school or 4th ESO teacher in the Valencian Community and you are interested in having the training activity "Docuforum: Corruption, harmful organism" carried out in your classroom, do not hesitate to contact the training service of the Valencian Antifraud Agency through training@antifraucv.es