#TrainingAVAF 
The collaboration between the Denia City Council and the Agency for the Prevention and Fight against Fraud and Corruption of the Valencian Community (AVAF) began in December 2022 with the signing of a protocol that marked the starting point for the emergence of joint projects .

The training activities for the promotion of ethics and public integrity, as well as the prevention and detection of fraud and corruption risks are part of the agreed protocol and have given rise to the conference "Integrity, public ethics and fraud prevention in the administration local" held on Tuesday, April 4 in Dénia.

The workshop was presented by the councilor Francesc Josep Roselló Sirero and was given by AVAF technical personnel who had come to the town.

The Valencian Anti-Fraud Agency, throughout the four hours of training, had the opportunity to share with nearly 70 public employees and elected officials of the municipal corporation the Valencian regulatory and institutional framework in the fight against corruption, as well as the novelties and obligations entailed by the new state regulations on the protection of whistleblowers of regulatory infractions, Law 2/2023.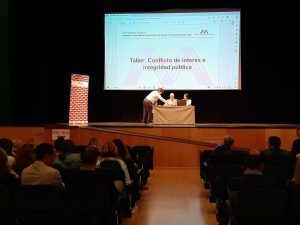 Anselm Bodoque, head of the Training Service of the Valencian Anti-Fraud Agency, presented the public policies for the prevention of fraud and corruption, as well as the reason for being and functions of the AVAF. The culture of public integrity promoted by the AVAF and the prevention of risks in decision-making in the local administration was the subject addressed by Pilar Moreno, a technician from the Agency's Training Service. In turn, Marita Oliver, an AVAF training technician, focused her speech on the basic aspects of the anti-corruption cycle.
The participation of the attendees came hand in hand with the "Conflict of interest and public integrity" workshop led by Agency staff, as well as the use of gamification tools that made it possible to warn that the risk that most needs to be addressed in the decision making is the lack of planning.
Public contracting, the lack of planning in the management of administrations, as well as the need to update the plan of anti-fraud measures due to the novelties contemplated in Law 2/2023 focused the public debate that took place in the last part of the day formative.
The Denia City Council approved its Anti-Fraud Measures Plan in February 2022 and with this activity importance is attached to training in public integrity and corruption prevention in public administrations.

If you wish to have specialized training in integrity and corruption prevention in your public administration, do not hesitate to write to training@antifraucv.es