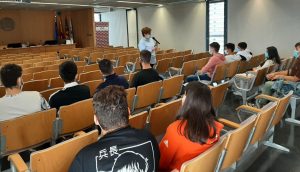 The Valencian Anti-Fraud Agency begins the academic year in the different universities of the Valencian Community. On this occasion, at the Polytechnic University of Valencia with students of the Degree in Management and Public Administration.
The docufòrum was made on Wednesday, October 20, with the attendance of 13 students of the subject of Information and Administrative Documentation, of the second year of ADE.
After watching the documentary "Corruption: Harmful Organism", the students asked questions and reflected on the origin and causes of corruption, its effect and costs, the perception of corruption in our society and in other neighboring countries, control systems, among other issues. The debate led to an explanation of the functions and work of the Valencian Anti-Fraud Agency, especially in relation to complaints, the protection of whistleblowers and prevention and training.
In the debate, special attention was paid to the necessary integrity and public ethics, individually and collectively, paying special attention to the ethical dilemmas that can occur as students and in professional life.
The activity was organized in collaboration with the Polytechnic University of Valencia, which we thank for its interest and willingness to help create a culture of public integrity and rejection of fraud and corruption.
If you are a university, Secondary or Baccalaureate teacher and you are interested in having the training activity "Docufòrum: Corruption, harmful organism" carried out in your subject, do not hesitate to contact the Training Service of the Valencian Anti-Fraud Agency through from formacion@antifraucv.es .