#TrainingAVAF
Algemesi. – January 16, 2023.
The #DocuforumAVAF training activity began in 2023 in the town of Algemesí, in the Ribera Alta region.
The Agency's learning experience consists of several phases and aims to make students reflect on strategies to combat fraud and corruption in society, paying special attention to the need to protect people who report corruption.
The students of the 1st year of high school of the Nuestra Señora de la Salut – Maristas de Algemesí School had the opportunity to see the documentary "Corruption: harmful organism" on Pandora Box TV, in a first session with their teachers and warn of the retaliation against those who are subjected to corruption whistleblowers.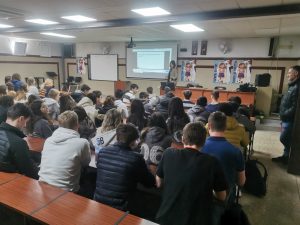 Last Monday, January 16, in a second session carried out in the classroom by the training technician Pilar Moreno, the students were able to resolve their doubts and questions regarding the daily risks faced by people who report and how corruption is prevented and pursued.
The figure of the controllers of the local administration, the conflict of interest, the anti-corruption agencies or what younger people can do to avoid fraud and corruption, were some of the issues raised and debated by those present at the activity.
The Valencian Antifraud Agency through #DocuforumAVAF has the opportunity to show in the classrooms of schools, institutes and universities throughout the Valencian Community, its objectives, functions and present and future challenges in matters such as public integrity, prevention and protection from whistleblowers of corruption. Gamification in the classroom is used in this training activity to stimulate debate and student participation.
In the docuforum on January 16 in Algemesí, 55 were the participants, including students from the Erasmus Plus program who had recently arrived from Norway. During the session there was the opportunity to compare the data on the perception of corruption in Norway and Spain, thanks to data from Transparency International, as well as the democratic quality index of the University of Gothenburg. The differences between the two countries were notable, which surprised those present.
If you are a university or high school teacher in the Valencian Community and you are interested in having the training activity "Docuforum: Corruption, harmful organism" carried out in your classroom, do not hesitate to contact the training service of the Valencian Anti-Fraud Agency at via training@antifraucv.es